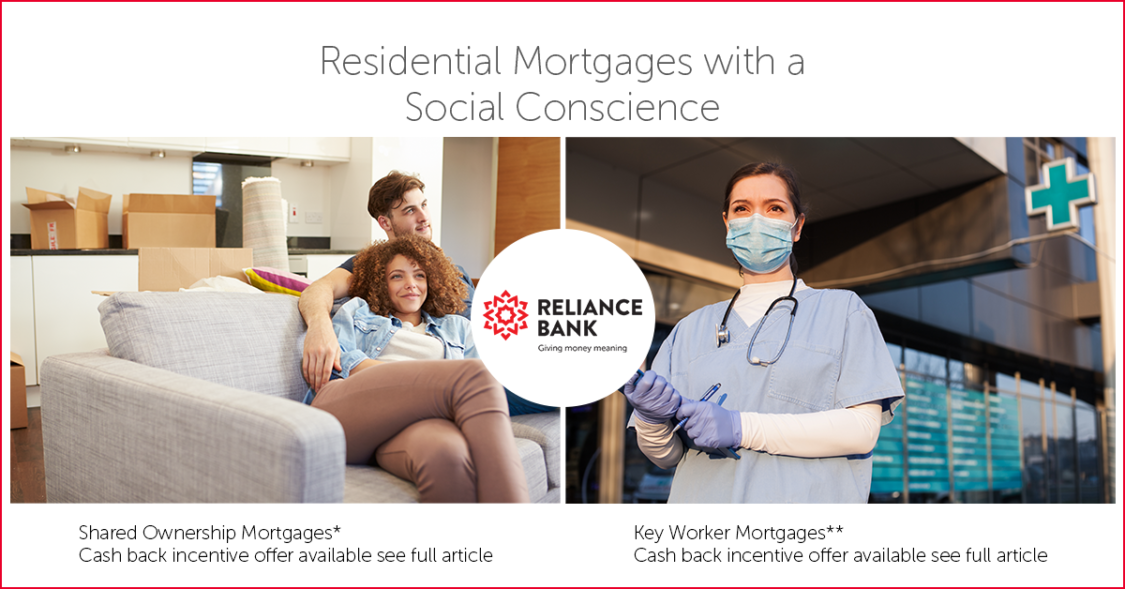 New Mortgage Rates
Reliance Bank maintains Cash Back incentives for Key Worker and Shared Ownership Mortgage completions and improves their Broker Registration Process
National average asking rents hit a new record* people are struggling to save a deposit to buy a property. In order to help people who are struggling to save for a deposit, Reliance Bank is able to accept gifted deposits from family and friends where the source of funds are from the UK. Not only that, we continue to provide Cash Back incentives for both Key Worker Mortgage completions and Shared Ownership Mortgage completions. This means that Reliance Bank can help people who would not ordinarily be able to get on the property ladder to buy their own home.
Reliance Bank Ltd are excited to announce the launch of their new Mortgage product range to both the Intermediary market and Direct.
The key changes are shown below:
• Key Worker Mortgage – 2 year fixed up to 75% with arrangement fee – Reduced from 5.69% to 5.15%
• Key Worker Mortgage – 2 year fixed up to 75% with NO arrangement fee – Reduced from 6.15% to 5.65%
• Key Worker Mortgage – 5 year fixed up to 75% with arrangement fee – Reduced from 5.35% to 4.99%
• Key Worker Mortgage – 5 year fixed up to 75% with NO arrangement fee – Reduced from 5.65% to 5.25%
The key highlights are as follows:
All product end dates have been set to the end of February – for 2yr products this is the 28/02/2025 and for 5yr products this is 29/02/2028 (remember our products are not for 24 / 60 monthly payments – we always work to an end date)
Cashback offering has now been aligned across Key Worker and Shared Ownership Mortgages to be set at £500 – again, this cashback will be paid to the applicants within 60 days of date of completion
* Shared Ownership minimum loan qualifying amount remains at £75,000
** Minimum qualifying loan amount for Key Worker and standard product Range remains at £125,000
All products are portable
All products allow for 10% overpayment per calendar year without ERC being charged
Product Fees remain at £995 and can be either paid upfront or added to the borrowing – Importantly if the product fee is added to the total loan it cannot exceed the LTV threshold for the product
Key Worker Mortgage products for up to 90% LTV can be used for both Purchase and Remortgage Applications
Key Worker Mortgages – please see the updated occupation list
We do not offer free valuations or free legals – clients need to pay for these
Principle Loan amounts have to be in multiples of £50
Early Repayment Charge treatment remains unchanged – please refer to rate sheets
We have Improved our Broker Registration Process
We have listened to your feedback and introduced a quicker and simpler Broker Registration Process to help brokers to onboard with Reliance Bank.
RBL Mortgage Operations Team now ask for the following items only:
1. Proof of Professional indemnity insurance
2. Simplified due diligence checklist and
3. Signed broker terms of business agreement.
We only register at firm or network level depending on whether you are Directly Authorised or an Appointed Representative.
Reliance Bank Mortgage Operations Team now have ownership of the Broker Registration Process which gives us more control and will help improve the onboarding experience.
Gareth Byrne, Head of Mortgages for Reliance Bank Ltd said: "We have improved our rates and service levels and simplified our Broker Registration Process. And this product range see us maintain our cash back incentives for both Key Worker Mortgage completions and Shared Ownership Mortgage completions. This helps to continue our positive social impact."
Why choose Reliance Bank for mortgages?
• We offer a wide range of competitive mortgages – fair and flexible lending options for Key Workers, Shared Ownership, First Time Buyers, remortgagers and home movers
• We are a manual underwriting lender
• We credit search – not credit score
• We are transparent with our SLAs
• We carry out SOFT footprint for AIPs and HARD footprint for all Full Mortgage Applications
• You'll get direct access to our Mortgage team and all cases are assigned to a mortgage underwriter and closely managed from AIP to completion
• All our AIPs are valid for 4 months from date of issue and
• All our Formal Mortgage Offers are valid for 6 months from date of issue
For more information on Reliance Bank, please visit: https://www.reliancebankltd.com/intermediary
To discuss anything mortgage related, and to ask for the password to the RBL Intermediary pages email us at: mortgages@reliancebankltd.com
To register with us call our Mortgage Team on: 0207 398 5422, and select option 1 or 2:
• Option 1 – New Business and applications currently in progress
• Option 2 – Existing Mortgage Enquiries
About Reliance Bank
Lending across England and Wales, the bank offers a full range of simple and flexible mortgages for First Time buyers, home movers and customers who want to re-mortgage. In addition, they also offer Key Worker Mortgages and Shared Ownership Mortgages.
Mortgages with a Social Conscience
Reliance Bank know that money has the power to change lives for the better. In the right hands, it can be a force for good. That's why our mortgage lending is designed to have a positive social impact.
Helping good people do great things with money
Reliance Bank has been at the forefront of socially responsible banking since 1890, when we were formed as the bank of The Salvation Army.
Reliance Bank are proud of its shareholder The Salvation Army International who help people whose lives have been affected by emergencies, disasters, poverty and social inequality.
Reliance Bank Limited. All rights reserved. Registered in England. Registration no. 68835. Reliance Bank Limited is authorised by the Prudential Regulation Authority and regulated by the Financial Conduct Authority and the Prudential Regulation Authority. Financial Services Register number 204537. Reliance Bank Limited, Faith House, 23 – 24 Lovat Lane, London EC3R 8EB. Telephone: 0207 398 5400.
References:
*National average asking rents outside London have hit a new record, now £1,162 per calendar month (pcm). This asking rent is a jump of more than 3% this quarter (+3.2%) for only the third time on record. Average London rents rise to £2,343 pcm, leading to the biggest ever annual jump of 16.1%. Source: Rightmove Rental Price Tracker Q3 2022.