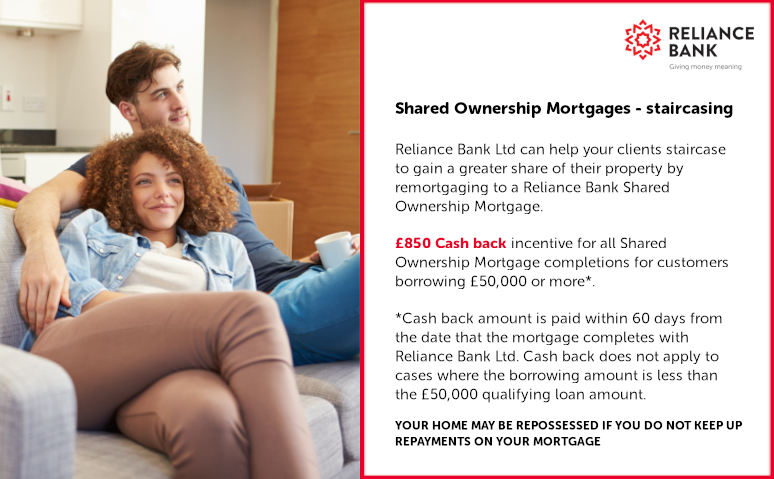 Shared Ownership Mortgage clients can gain a greater share of their property by remortgaging and staircasing with Reliance Bank Ltd
If your clients have existing Shared Ownership Mortgages with other lenders and they would like to gain a greater share or full ownership, they can remortgage and staircase with Reliance Bank Ltd.
Once your client has bought their initial stake in their home they can staircase to 100% Ownership in batches of 10% or larger.
Reliance Bank Ltd can assist your clients increase the batches or staircase to full ownership by remortgaging to a Reliance Bank Shared Ownership Mortgage – see our rates: Click here
The main benefits of staircasing are that your client will pay less rent and benefit more from the property appreciating in value. Once they have staircased up to 100% ownership, they also have a better choice of mortgages and are able to sell the property on the open market – as long as your lease allows.
Reliance Bank Ltd have introduced an £850 Cash back incentive for all Shared Ownership Mortgage completions for customers borrowing £50,000 or more*.
*Cash back amount is paid within 60 days of the date that the mortgage completes with Reliance Bank Ltd. Cash back does not apply to cases where the borrowing amount is less than the £50,000 qualifying loan amount.
How a shared ownership mortgage works:
• Buy between 25% and 75% of a property from a Housing Association
• We can lend up to 95% of the share of the property that your client will own
• Borrow between £50,000 and £500,000
• 2 year and 5 year fixed rates available
• UK Customer Experience Team
Are you eligible?
• To remortgage to a Reliance Bank Ltd Shared Ownership Mortgage you must own a Shared Ownership property and have an agreement from the housing association to staircase to a greater share of their property
As these mortgages are designed to help people on lower incomes, your combined household income must be:
-less that £80,000 if you live outside London
-less than £90,000 if you're living in London
If you would like to discuss a case please call us on:
020 7398 5421 or 020 7398 5422 or
Email mortgages@reliancebankltd.com
YOUR HOME MAY BE REPOSSESSED IF YOU DO NOT KEEP UP REPAYMENTS ON YOUR MORTGAGE