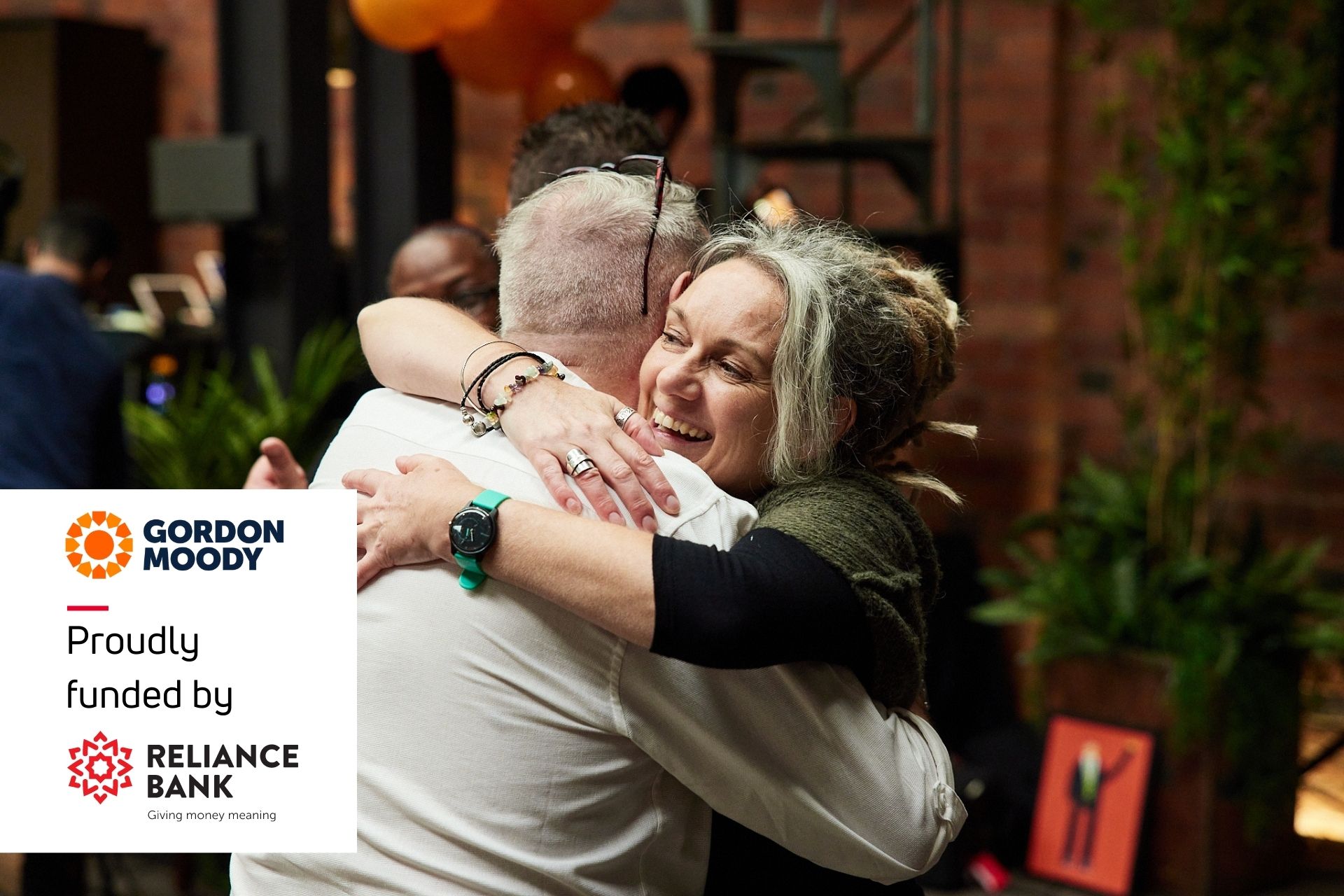 Reliance Bank are proud to support Gordon Moody who help people reclaim and rebuild their lives free from gambling addiction
Reliance Bank proudly funded the women's treatment centre in Wolverhampton – the first of it's kind.
Gordon Moody (GM) is the UK's leading charity dedicated to helping people reclaim and rebuild their lives free from gambling addiction through recovery in a safe, supported environment.
Gordon House, as it was known then, was first opened in South London in 1971 by the Reverend Gordon Moody MBE. Over the last 50 years, they have become a force of healing and hope for individuals, families and communities affected by gambling-related harm. GM want to divert problem gamblers from a cycle of gambling, debt, poverty, crime, theft and imprisonment.
Whilst GM had been providing treatment for over 50 years, when Matthew Hickey joined as CEO of GM there had never been a residential treatment centre for women. Matthew wanted to resolve that by purchasing a property in Wolverhampton that could provide a "home away from home" for 13 women to live in a therapeutic community where they can work through their recovery and rehabilitation journey together.
Solution
Matthew Hickey – CEO of GM needed two things, capital to buy the property in Wolverhampton and capital to pay the staff that would deliver the treatment programme at the women's residential treatment centre. GM Board members were keen to own the property to provide a sense of permanence for the charity and their service users. They identified properties in Wolverhampton that would provide a safe, secure and welcoming environment for 13 women. GM purchased the properties from their own funds and were looking for a funder to replenish reserves. Reliance Bank provided a loan to assist with the costs of refurbishment and conversion work at the property.
Although GM had an existing relationship with another bank, with the support of their financial consultant, GM were keen to look for funding amongst other banks in the market. That's when they found Reliance Bank and were introduced to Morag Davies – Head of Commercial Banking for Reliance Bank.
Matthew Hickey – CEO of Gordon Moody commented: "Reliance Bank came ahead of the other banks in terms of their ethics and values. The GM Trustees liked that we could work with Reliance Bank, which was formed as the bank for The Salvation Army.
"The GM Trustees knew that they could benefit from the knowledge and experience Reliance Bank has gained by serving the charity sector and in particular by serving its customer and shareholder The Salvation Army, who also help people living with addiction. The connection with Reliance Bank fitted with whom GM wanted to collaborate with. The beauty of working with Reliance Bank was that they understood our ethics and values as well as our business model.
"Using the funds provided by Reliance Bank, we are currently mid-way through the development. It will take three or four more months and we will pick up the keys in June 2023. We are future-proofing the structure so that it is energy efficient."
Impact
Self-harm and attempted suicide can be a feature for people with harmful gambling practices and co-occurring mental health and cross-addiction needs. The 24/7 residential treatment centre for women, including the Retreat & Counselling programme, helps to transform and saves lives. The home away from home environment removes the fear of coming into treatment with the aim of allowing women to feel safe and secure.
Family members and friends of problem gamblers are known as "affected others". Children, partners, and friends can be stolen from, forced into debt, manipulated, and lied to when a gambler pursues harmful gambling practices. The aim of the GM women's treatment centre is to divert female problem gamblers from crime and prison. The cost of the treatment is far less than the cost of imprisonment, where there is rarely any rehabilitation so the spiral of crime to fund a gambling addiction could continue after a prison sentence.
The GM women's treatment centre in Wolverhampton is the first of its kind. GM have gathered data by observing the gambling trends and it has responded by providing this unique facility for women. The women's treatment centre will transform the way the gambling industry understands and works with female problem gamblers.
The GM women's treatment centre in Wolverhampton is bespoke to the treatment of women and will provide the following areas of support:
1) Peer-to-peer support from other residents (this is known as a therapeutic community)
2) One-to-one and group therapy sessions provided by therapists
3) Advice on debt, relocation, and social support provided by support workers
4) Other support in the form of doctors, dentists, and mental health support workers, along with support from local social housing associations (once the resident has completed treatment and needs re-housing to avoid the gambling triggers associated with their original lodgings)
The therapeutic community creates a new family whereby all the residents are going through the same journey of recovery, treatment, and rehabilitation.
Staff are sourced locally so that they can provide 24-hour service whereby night staff will sleep over to provide support during the night.
We call it a hidden addiction
Gambling addiction can be a result of a range of issues such as bereavement and abuse. Problem gamblers keep secrets about their habits and addiction. Gambling addiction can be particularly complex within women, especially when the cost of living is increasing and they want to support their family and pay for heating, lighting, and put food on the table. The women's residential centre in Wolverhampton will help female problem gamblers get out of a period of desperation and reclaim their lives.
Testimonial
Matthew Hickey – CEO of GM commented: "Morag understood what we were trying to do straight away, she wanted to make it work, she wanted to move heaven and earth for us. There was trust, faith, and agility within the process. Although the process had some complexity, such as a unilateral notice that affected the valuation of the property, we were also going through a re-tendering for our services. Morag understood the nuances. Reliance Bank's appetite for risk was very balanced. Working through our business plan with Morag meant we could be adaptable and flexible. Morag's flexibility allowed us to make changes to how much we needed to borrow. We see our relationship with Reliance Bank as a long-term partnership."