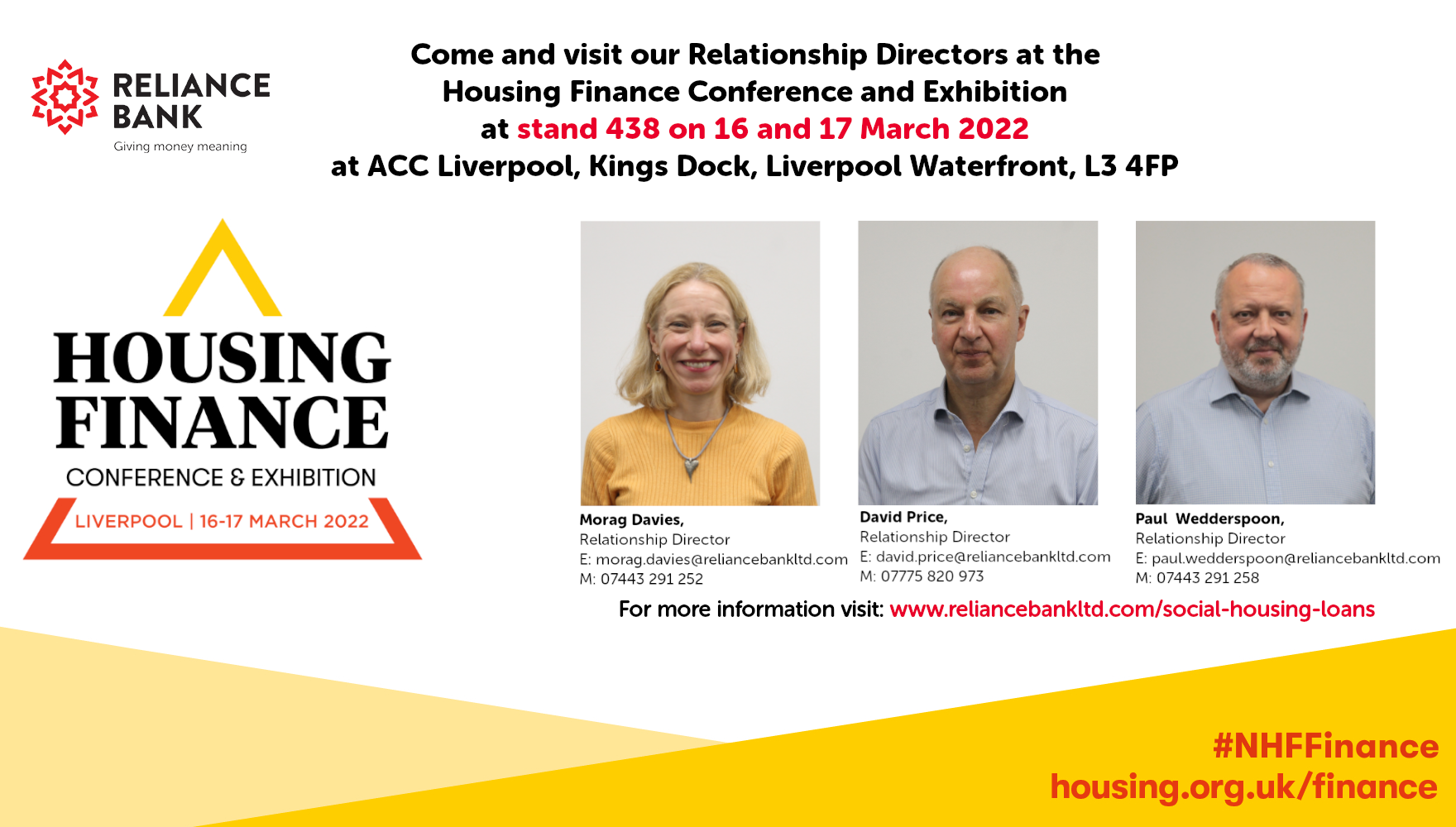 Come and visit our Reliance Bank Ltd Relationship Directors at Stand 438 at the Housing Finance Conference and Exhibition on 16th and 17th March 2022 at ACC Liverpool, Kings Dock, Liverpool Waterfront, L3 4FP.
We understand the housing sector is under pressure to provide new affordable homes for our communities as well as address decarbonisation, building safety and quality issues.
Power to change lives for the better
Reliance Bank Ltd has proudly supported the social housing sector for many years. Reliance Bank Ltd provide funding to Registered Providers of Affordable Housing and Housing Associations so that they can provide more affordable homes. Reliance Bank Ltd also support Shared Ownership Mortgages.
Helping good people do great things with money
Reliance Bank Ltd has been at the forefront of social impact banking since 1890, when we were formed by William Booth the founder of The Salvation Army. Reliance Bank are proud of its shareholder The Salvation Army International who help people whose lives have been affected by emergencies, disasters, poverty and social inequality internationally.
If you are a Registered Provider of Affordable Housing or a Housing Association with an existing range of pre-owned properties and you want help to release cash to grow your portfolio, Reliance Bank can help with a commercial loan so that you can secure more properties and assist you with your ambition to grow your portfolio of homes.
To find out more about our Social Housing Loans visit: Click here
To discuss your borrowing requirements, please contact one of our Reliance Bank Relationship Directors at commercial@reliancebankltd.com or call 020 7398 5400.
Reliance Bank are proud to support Shared Ownership Mortgages – for more information visit: