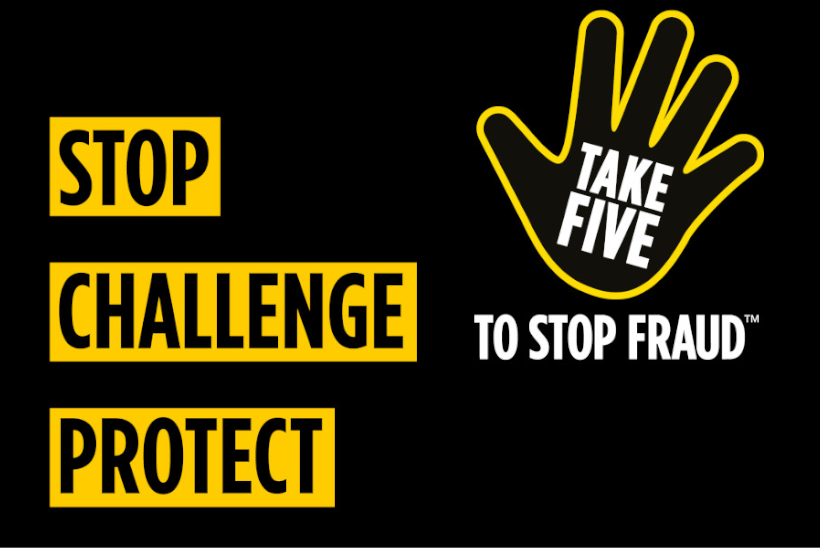 Fraud and Protection
The modern digital age is bringing huge benefits to everyone, but these benefits unfortunately also attract fraudsters who are eager to exploit these benefits by using new ways to con people out of their money.
Please look to protect yourself from fraud and stay safe online, in person, and on the phone.
Whether by email, text, or on social media or by a convincing phone call, clever letter, or by persuasive sales patter fraudsters are looking at ways that they can fool people into handing over their personal details so that they then use these to commit crime.
So, If you think you've been a victim or think you've seen suspicious activity on your account then please call us on 0207 398 5400 or report the matter to Action Fraud the UK's national reporting centre for fraud and cyber crime either by calling 0300 123 2040 or by using their online fraud reporting tool.
Take Five to stop fraud is a national awareness campaign led by UK Finance and backed by the Government and other organisations.
Criminals are experts at impersonating people, organisations, and the police. They spend hours researching you for their scams, hoping you'll let your guard down for just a moment. Stop and think. It could protect you and your money.
STOP -Taking a moment to stop and think before parting with your money or information could keep you safe.
CHALLENGE – Could it be fake? It's ok to reject, refuse or ignore any requests. Only criminals will try to rush or panic you.
PROTECT – Contact your bank immediately if you think you've fallen for a scam (call Reliance Bank on 020 7398 5400) and report it to Action Fraud.
Avoid Coronavirus scams
A major event like Coronavirus has initiated new types of scam activity such as the fraudulent sale of face masks and hand sanitiser.
When it comes to financial services, the scam activity is more nuanced and often appears after the initial shock of a major event. With that in mind, we are urging consumers to be vigilant for scams that could appear over the coming months.
Scammers are sophisticated, opportunistic and will try to get personal details or money from victims in many ways. They tend to target people who are more vulnerable or susceptible to being scammed, particularly in the current climate with many more people being at home.
Please be vigilant if you are contacted by an individual posing as bank official or a company requesting your bank details or online banking details then you should not provide them with this information as this is being requested to steal your identity to gain access to your accounts and then use that access to carry out unauthorised transactions. Be particularly mindful if these callers ask you to install software on your computer.
What tactics to look out for
Exploiting short-term financial concerns, scammers may ask you to hand over an upfront fee – usually between £25 and £450 – when applying for a loan or credit that you never get. This is known as loan fee fraud or advance fee fraud.
'Good cause' scams. This is where investment is sought for good causes such as the production of sanitiser, manufacture of personal protection equipment (PPE) or new drugs to treat coronavirus – with scammers using the promise of high returns to entice consumers.
Using the uncertainty around stock markets, scammers may advise you to invest or transfer existing investments into non-standard investments.
Clone firms – firms must be authorised by us to sell, promote, or advise on the sale of insurance products. Some scammers will claim to represent authorised firms to appear genuine. In particular, be aware of life insurance firms that may be cloned.
Scammers may contact you claiming to be from a Claims Management Company (CMC), insurance company or your credit card provider. They may say they can help you recuperate losses by submitting a claim, for the cost of a holiday or event such as a wedding cancelled due to coronavirus. They will ask you to send them some money or your bank details.
Cold calls, emails, texts or WhatsApp messages stating that your bank is in trouble due to the coronavirus crisis and pushing you to transfer your money to a new bank with alternative banking details.
How to protect yourself
Use the Financial Services Register and Warning List to check who you are dealing with.
Reject offers that come out of the blue.
Beware of adverts on social media channels and paid for/sponsored adverts online.
Do not click links or open emails from senders you don't already know.
Avoid being rushed or pressured into making a decision.
If a firm calls you unexpectedly, use the contact details on the Register to check that you're dealing with the genuine firm.
Do not give out your personal details (bank details, address, existing insurance/pensions/investment details) to anyone you do not know.
Please be aware of fraudulent websites purporting to be our website.
Please do not enter any details or make contact with anyone relating to those websites.
To find out if the website you are viewing is legitimate, Google the website's name and review the results. If the site is illegitimate, a quick Google check will be enough to inform you accordingly. Also, look at the website itself to see if it connects securely over https and displays a tiny padlock icon in the address bar.
For security, please ensure that you are always on this domain www.reliancebankltd.com or ibank.reliancebankltd.com when using our banking services. If you suspect that you are on a 'fake" domain, please contact Reliance Bank on 020 7398 5400.