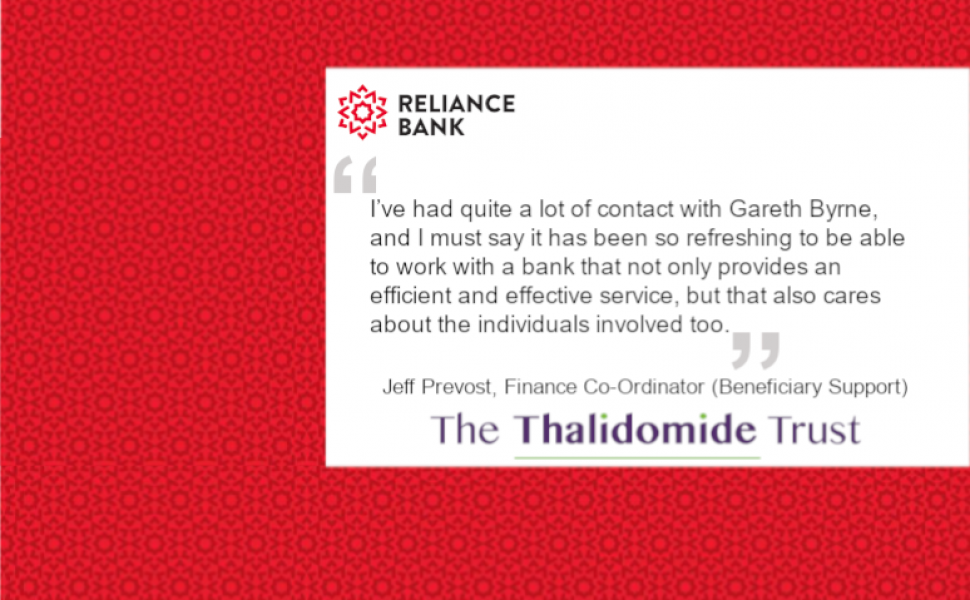 Reliance Bank and Thalidomide Trust working together to improve quality of life
Reliance Bank did a re-mortgage for Charles who lives with disabilities as a result of his mother being given Distaval (a drug containing thalidomide) during the first 3 months of pregnancy. Charles is a beneficiary of The Thalidomide Trust who provide a range of health and wellbeing and financial support to help beneficiaries to maintain their independence and maximise the quality of their day to day lives.
Charles wanted to remain in his home and make the garden safer and more accessible to improve his mobility. The Thalidomide Trust approached Reliance Bank for information on the mortgages that we provide.
Reliance Bank Mortgage team were delighted to help Charles carry out a re-mortgage from his current lender to Reliance Bank. This released some additional funds to help pay for the modification and improvement work required on his home, which in turn has helped to improve Charles' quality of life. Charles feels happier in his home following the modifications as his house and garden area is much safer and suitable for his needs. Having a more accessible outdoor space has been particularly valuable for Charles during the lockdown restrictions in 2020.
Jeff Prevost, Finance Co-Ordinator (Beneficiary Support) said "I just wanted to pass on my thanks and to acknowledge the efforts of Gareth and the team (Gareth F and Daniel) for the support they have provided to our beneficiaries so far – either through providing specific mortgage illustrations or assisting them with their mortgage applications and completions.
From a personal perspective, I've had quite a lot of contact with Gareth Byrne this year, and I must say it has been so refreshing to be able to work with a bank that not only provides an efficient and effective service, but that also cares about the individuals involved too. To have the opportunity to pick up the phone and speak to Gareth to discuss our beneficiary cases (some of which are quite complex) is really unique, and for me as an intermediary it is much appreciated! It's certainly not something I've experienced with 'high street' lenders before, and the opportunity to receive a lending and understanding ear (rather than a 'computer says no' approach) is really valuable.
From a beneficiary perspective, the beneficiaries that have had their mortgages recently approved are delighted, as I know they had difficulties in securing mortgage offers with the other high street lenders that they had initially approached."