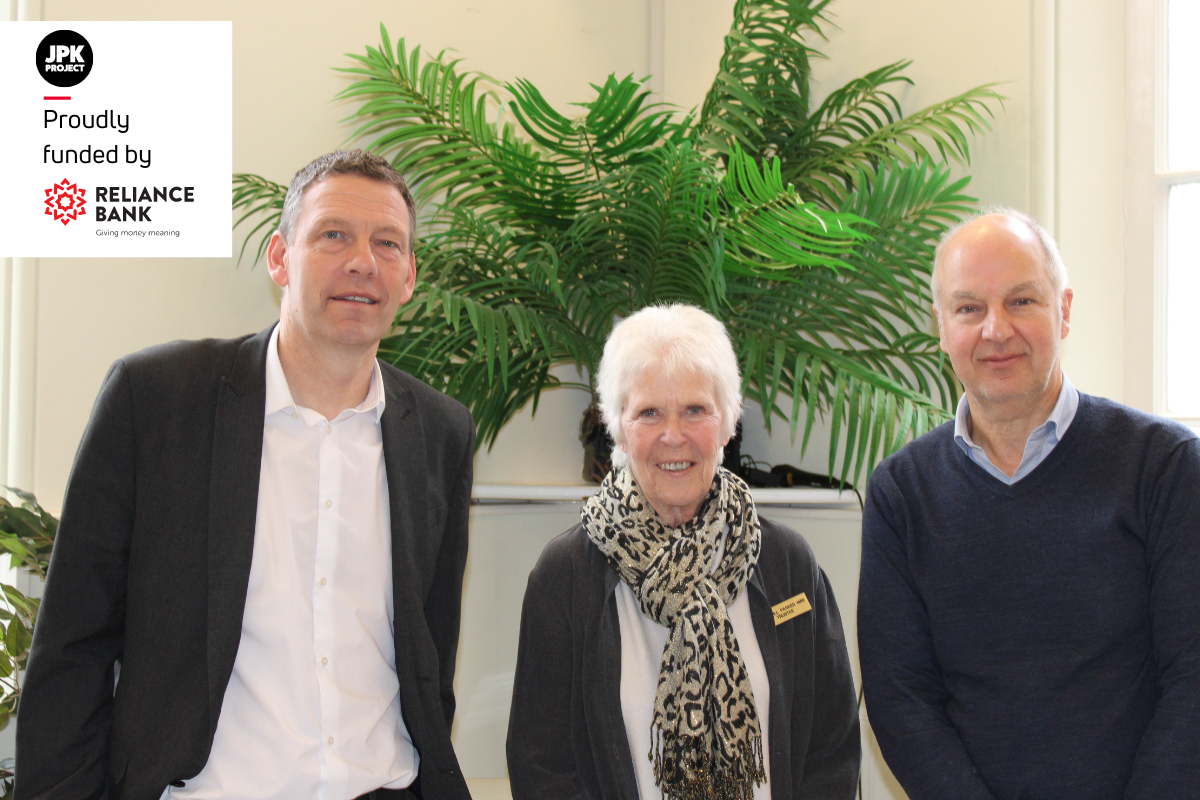 Reliance Bank proudly funded JPK Project
JPK Project used the funding to help assist in the building project which will provide supported living in the form of eight flats, to provide a safe environment for people with learning difficulties
The first phase of the project included the renovation of a church into a Café, restaurant, and community training centre. This has enabled JPK to offer work experience and training placements for people with learning difficulties, giving them the opportunity to learn skills in hospitality, customer service, catering, food hygiene, housekeeping and information technology. JPK have 15 current students and can recruit up to 25 per week. All Students will receive one-to-one support.
The Café is popular with the elderly people who live locally because they feel safe and comfortable in the light and airy space. The elderly customers maybe living in supported living themselves, so they may feel lonely, so they come to the Café to get some company and have a chat with the students and staff while they enjoy lunch and a cake.
Solution for Phase 2
The property was originally a Customs and Excise house where illegal hooch was poured away. The building was later used as an evangelical church, where they used a pool for baptism. So, when work was undertaken to renovate the church into the Café Jill Parker MBE used an architect. The second phase of the project was to build apartments for people with learning difficulties to live in supported living.
Jill started to raise funds for the build. When the architect came to look around upstairs, it was apparent that more money was needed to build the communal kitchen, storeroom, laundry, and lounge.
In reviewing their options to complete the Project, Jill was recommended to speak to Steve Bowles of A & T Business Associates who are a firm of Commercial Finance brokers based in Sussex .
Steve started to research the market for the most suitable lenders and having discussed with Jill then made an introduction to David Price who is a Relationship Director for Reliance Bank. Jill was very happy to receive the funding support from Reliance Bank because of their commitment to organisations that deliver a positive social impact.
Impact
Reliance Bank's commercial loan has been used to help assist in the building project which will provide supported living in the form of eight flats, to provide a safe environment for people with learning difficulties. The communal rooms include a kitchen, laundry, storeroom and lounge/dining room to enable tenants to mix, build friendships and learn self-help skills.
The tenants and their visiting parents will be able to use the vibrant and friendly Café at the front of the property. Tenants will also have access to the JPK training centre. The training centre coordinator brings a wealth of experience in teaching people with special needs and the Centre Supervisor can support with Health and Safety and Risk Assessment training and future curriculums will be available for students who might not be able to read and write. Future training modules include – Barista, Waiting tables, Bar, Food preparation, Cooking and Washing. All of these lead to self-help skills and can earn 'in-house' or National Vocational Qualifications in preparation for future supported employment and / or volunteering opportunities.
Whilst the tenants of the purpose-built apartments will enjoy new found independence, the tenants parents will have the comfort that their children will be in a safe place where they will lead happy and fulfilled lives.
Testimonials
Jill Parker MBE who is a Trustee for JPK Project commented: "It has been a pleasure to work with David Price and the Reliance Bank Team. David's support and assistance during the negotiations for the loan facility was extremely helpful. The JPK Contractors are currently undertaking the building work and it is estimated that they will be finished by the end of March 2023, with just the Garden Area to develop."
Steve Bowles Broker A&T Business Associates commented: "It has been a delight to work with David Price and his team at Reliance Bank, David quickly understood the need for funding and the overall benefit this project would have on the local Community. David worked hard to get the funding in place to meet the needs of the Charity and it was good to work with a Bank that was determined to make the deal happen."
To find out more about our Charity Loans click: Here
If you wish to discuss your borrowing requirements, please contact one of our Reliance Bank Relationship Directors at commercial@reliancebankltd.com
Reliance Bank has been at the forefront of social impact banking since 1890, when we were formed as the bank for The Salvation Army.
Reliance Bank are proud of its shareholder The Salvation Army International who help people whose lives have been affected by emergencies, disasters, poverty and social inequality.
As a Bank we've supported charities for over 130 years and we prioritise business lending to organisations that deliver positive social impact in the UK.
Reliance Bank Limited. All rights reserved. Registered in England. Registration no. 68835. Reliance Bank Limited is authorised by the Prudential Regulation Authority and regulated by the Financial Conduct Authority and the Prudential Regulation Authority. Financial Services Register number 204537. Reliance Bank Limited, Faith House, 23 – 24 Lovat Lane, London EC3R 8EB. Telephone: 0207 398 5400.