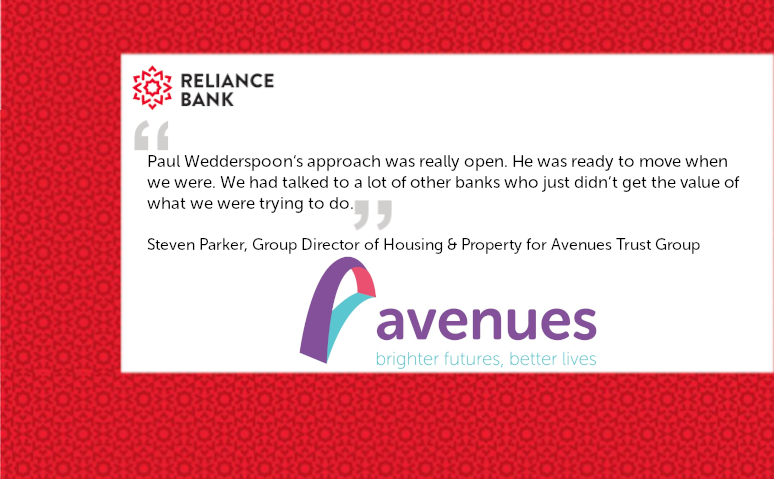 Reliance Bank and Avenues Trust Group help three brothers with complex support needs enjoy fulfilling lives in their community
Three brothers named Andrew, Daniel and David have very complex support needs and receive around the clock support from Avenues Trust Group. They have lived together for the last four years in a property in East Kent. This followed the closure of their care home. The property was rented by Avenues from their housing partner. Moving from the Care Home was a real challenge but one they have grasped. Since the move they have thrived, learning new skills and taking an active part in the community. The property has become their home. However following a rationalisation of its activity, the Landlord made the decision to cease its operations in East Kent. It was too far away from their core business. One consequence of this was whilst they looked for solutions little investment or improvement was made to the property. In early 2020 they informed Avenues that they were planning to sell the building. Avenues Trust Group were worried that if the property was no longer theirs to rent, the brothers could be split up and moved to different places, and the progress they had made would be lost.
Solution
Avenues Trust Group were determined to purchase the property in East Kent, but required a like minded lender to support them. Having undertaken an extensive market review, they began their relationship with Paul Wedderspoon at Reliance Bank.
Paul Wedderspoon provided a loan that allowed Avenues Trust Group to get the deal done within timescales, and the purchase of the property went smoothly with Paul's support and guidance. Ownership of the property has meant that Avenues can continue to help the brothers build their independent living skills, and benefit from being part of the local community.
Impact
Now that Avenues Trust Group own the property they have been able to invest and improve property standards. Avenues are able to deliver on the commitment they made to the parents, keeping the brothers together in a place they call home with the things that matter to them, in a community where they can smile, laugh and grow.
Steven Parker – Group Director of Housing & Property for Avenues Trust Group said: "Pauls approach was really open. He was ready to move when we were. We had talked to a lot of other banks who just didn't get the value of what we were trying to do, Reliance Bank were different. Paul never got hung up on technicalities. Paul made it really easy. He was always really helpful and flexible. We had some complications on the day of completion but Paul didn't blink. Knowing that Reliance Bank had our backs gave us the confidence to continue and we are working on the purchase of another 4 properties with Pauls help."
To find out more about our Charity Loans click here.
If you wish to discuss your borrowing requirements, please contact one of our Reliance Bank Relationship Directors at commercial@reliancebankltd.com or call 0207 398 5400.
Reliance Bank has been at the forefront of social impact banking since 1890, when we were formed by William Booth the founder of The Salvation Army.
As a Bank we've supported charities for 132 years and we prioritise business lending to organisations that deliver positive social impact in the UK.