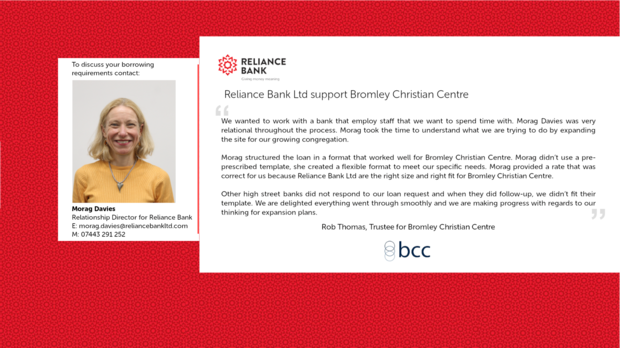 Reliance Bank support Bromley Christian Centre with their growth and positive impact in the community
Reliance Bank Ltd provided a loan to Bromley Christian Centre which is a charitable company that has been operating a church in Bromley for over 90 years with a congregation of more than 500 people with over 40 nationalities. The growing numbers required the trustees to look at options for accommodating the congregation.
Rob Thomas – Trustee for Bromley Christian Centre said: "We wanted to work with a bank that employ staff that we want to spend time with. Morag Davies was very relational throughout the process. Morag took the time to understand what we are trying to do by expanding the site for our growing congregation.
Morag structured the loan in a format that worked well for Bromley Christian Centre. Morag didn't use a pre-prescribed template, she created a flexible format to meet our specific needs. Morag provided a rate that was correct for us because Reliance Bank Ltd are the right size and right fit for Bromley Christian Centre.
Other high street banks did not respond to our loan request and when they did follow-up, we didn't fit their template.
We are delighted everything went through smoothly and we are making progress with regards to our thinking for expansion plans."
To find out more about our Charity Loans click here.
If you wish to discuss your borrowing requirements, please contact one of our Reliance Bank Relationship Directors at commercial@reliancebankltd.com or call 0207 398 5400.
Reliance Bank has been at the forefront of social impact banking since 1890, when we were formed by William Booth the founder of The Salvation Army.
As a Bank we've supported churches and charities for over 130 years and we prioritise business lending to organisations that deliver positive social impact in the UK.