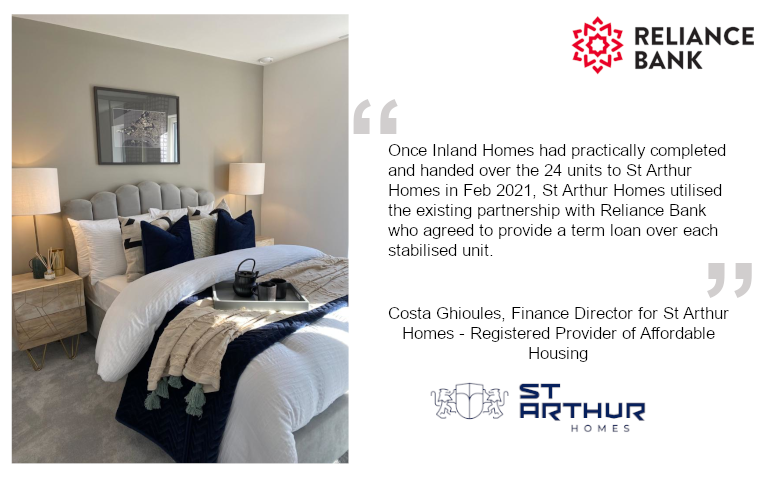 Reliance Bank and St Arthur Homes have been helping people own a share of their own home via Shared Ownership
St Arthur Homes specialises in high quality Shared Ownership homes and wanted to acquire more properties to add to their Shared Ownership portfolio in the south of England from outer London all the way down to Southampton.
Shared Ownership is an affordable home ownership scheme which makes it easier for buyers to get on the property ladder. Shared Ownership helps first time buyers to secure their new home as it can reduce the deposit amount required.
Costa Ghioules – Finance Director for St Arthur Homes said: "Once Inland Homes had practically completed and handed over the 24 units to St Arthur Homes in Feb 2021, St Arthur Homes utilised the existing partnership with Reliance Bank who agreed to provide a term loan over each stabilised unit. Each unit's rental income met the covenants required by Reliance Bank and terms were offered on this low voiding rental asset. Security for Reliance Bank was met with a first charge over each unit. In the event of future possible staircasing by tenants, a simple debt covenant recalculation will be made where a repayment of the loan is made from the staircased proceeds. This ongoing funding relationship with our debt partners has allowed St Arthur Homes to release equity, which is then reinvested to grow the portfolio further, assisting in the ambition to grow the portfolio to 2,000 units within the next five years. Future additional Forward/ development funding and Stabilised/ term funding will be sought in order to deliver the agreed units in our pipeline with our partnered developers and in line with our board approved targets over the next five years."
Richard Cohen – CEO for St Arthur Homes said: "We have been delighted with the approach Reliance Bank took to working alongside St Arthur Homes. All the way through they have been diligent and fully understanding of the processes of working in the shared ownership market. We consider our ongoing relationship with Reliance Bank to be a very strong and successful one."
To find out more about our Business Loans click on the link below:
https://www.reliancebankltd.com/business-banking/business-loans
If you wish to discuss your business or charity borrowing requirements, please contact one of our Reliance Bank Relationship Directors at commercial@reliancebankltd.com or call 0207 398 5400.
To view the properties St Arthur Homes has available visit their website: www.starthurhomes.com
Reliance Bank are proud to support Shared Ownership Mortgages – for more information please click on the link below: